Ariterm Sweden AB
Ariterm is one of Scandinavia 's leading manufacturers of heating systems for bioenergy. Development and manufacturing takes place in Sweden and Finland, two countries with experience of cold weather and what is required to meet it. Ariterm has authorized resellers that provide expert guidance to the appropriate and correctly sized equipment. The well-developed network of installers ensures that your investment is safe, economic and environmental in the future.
Products and services
Oljepannor
Pellets
flis
Spannmåls-pannor
Vedpannor
Pelletsbrännare
Pelletskaminer
Solfångare
Ackumulatortankar
Pellet/chip/grain boilers
Oil boilers
Combi boilers
Wood boilers
Electric boilers
Pellet stoves
Solar heaters
Show

more

less

Enertech AB
CTC offers a broad product range of heating products, geothermal heat pumps, air- water heat pumps, pellet boilers, wood boilers pumps etc. We develop and manufacture all our products in Ljungby.
Show

more

less

HS Perifal AB
We at Baxi deliver products within heating – wood boilers, pellet boilers, pellet stoves, wood stoves and solar panels. In our climate, up north, reliable heat a must in every accommodation. With products from Baxi, you can always feel safe that you are using efficient, environmentally friendly and reliable heating products. Warmth and security are also key values ​​that permeate all our work and our attitude towards our customers.
Contact
| | |
| --- | --- |
| Company name: | BAXI AB |
| Address: | Box 654 |
| Zip code & City: | 521 21 Falköping |
| Homepage: | www.baxi.se |
| Contact person: | Krister Fronth |
| Phonenumber: | 0515-835 65 |
| E-mail: | krister@baxi.se |
Show

more

less

Janfire AB
We have developed pellet burners since 1983 and today has a wide range for both houses and larger heating
Contact
| | |
| --- | --- |
| Company name: | Janfire AB |
| Address: | Box 194 |
| Zip code & City: | 662 24 Åmål |
| Homepage: | www.janfire.com |
| Contact person: | Robert Ingvarsson |
| Phonenumber: | 0532-16417 |
| E-mail: | robert@janfire.com |
Show

more

less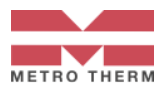 Metro Therm AB
METRO THERM began supplying heat in 1921. Today we are Sweden's largest provider of heating products.
Show

more

less

NIBE AB
NIBE is the largest manufacturer of domestic heating products .With a huge environmental responsibility, we create sustainable energy solutions in the forefront of technology. Our heat pumps extract energy from including geothermal heating, ground heat and warmth in the air. Other products included in our range are water heaters, storage tanks, ventilation heat exchangers, various types of boilers and solar energy products.
Show

more

less

Värmebaronen AB
Värmebaronen is a unique company in the energy industry as all products in the extensive product range are designed and manufactured in Sweden in their own factory. It creates jobs and purchasing power in the region while providing full control over the production, which guarantees quality.
In order to compete with low-priced products from the former Eastern Bloc and Asia Värmebaronen invested millions of crowns in the latest in machines. The latest addition is a tube laser in size with a smaller commuter. It produces, among other things burner to the Viking Bio pellet burner.
The company's positive development has been rewarded with for example Today's Industri's Gazelle award given to companies with good growth and profitability. Värmebaronen has also been awarded prizes for their efforts to develop and produce environmentally friendly products.
Show

more

less

Weishaupt Svenska AB
Weishaupt heating systems, heat pumps and burners are recognized quality products in energy technology. Reliability, high efficiency and solid construction distinguish these products. Simply put : it's reliability.
Show

more

less